Must not make spelling mistakes or I have to start over again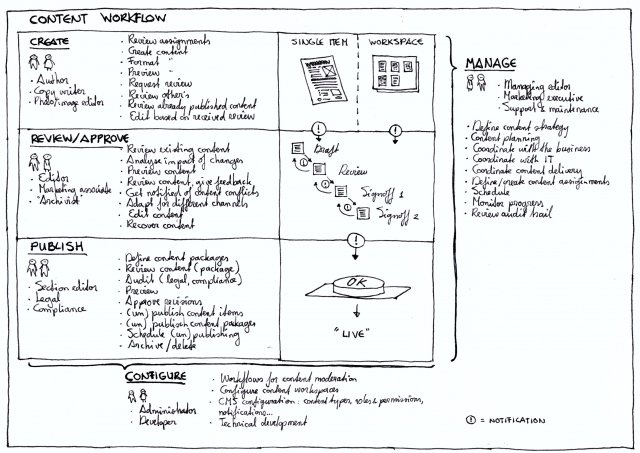 Mapping out the moving parts of the content workflow initiative we arrived at this high level grouping of related activities:
Create content
Review & approve content
Publish content
Manage the creation, review and publishing process
Configure the tools that enable all of the above
For either single items of content or a set of multiple items, bundled in a workspace.
Create content
Everything related to creating new, editing existing content in the first place.
Roles
Author
Copy writer
Photo/image editor
Tasks & activities
Review assignments
Create content
Format content
Preview content
Request review
Edit content based on feedback
Review other people's content
Review existing, live content
Review & approve content
All the things that need to happen to get new content ready for publication. Here's a more elaborate example of a moderation workflow using a workspace.
Roles
Editor
Marketing associate
Archivist
Tasks & activities
Review content, give feedback
Edit content
Preview content
Get notified of content conflicts
Adapt content for different channels
Analyse impact of content changes
Review existing content
Recover content
Publish content
Actual publication of content and managing its life cycle from then on.
Roles
Section editor
Legal
Compliance
Tasks & activities
Define/specify content packages
Review content (packages)
Audit (legal, compliance)
Preview content
Approve revivisions
(un)publish content items
(un)publish content packages
Schedule (un)publishing of content
Archive/delete content
Manage content workflow
Set the strategic agenda, coordinate with other business units, oversee all of the above.
Roles
Managing editor
Marketing executive
Support & maintenance
Tasks & activities
Define content strategy
Content planning
Coordinate with the business
Coordinate with IT
Coordinate content delivery
Define content assignments
Schedule content production
Monitor progress
Review audit trail
Configure content workflow tools
Providing the tools and processes to enable all of the above.
Roles
Tasks & activities
Configure workflows for content moderation
Configure content workspaces
CMS configuration: content types, roles & permissions, notification settings…
Technical development
Have a look at the visual definition of a workspace and a more fleshed out example of a moderation workflow as well.
Hope this helps clarify the main concepts, activities and relationships in the workflow initiative.